Beautiful showroom interior fit-out in Hanoi, Viet Nam
Showroom interior fit-out are always a top priority for business owners and business owners because showrooms and shops are the place to introduce products and brands of each business unit to the customers. client.
A good showroom interior design not only makes the product stand out, easy to see and attract the attention of customers, but also acts as a bridge for businesses to convey their messages to their customers.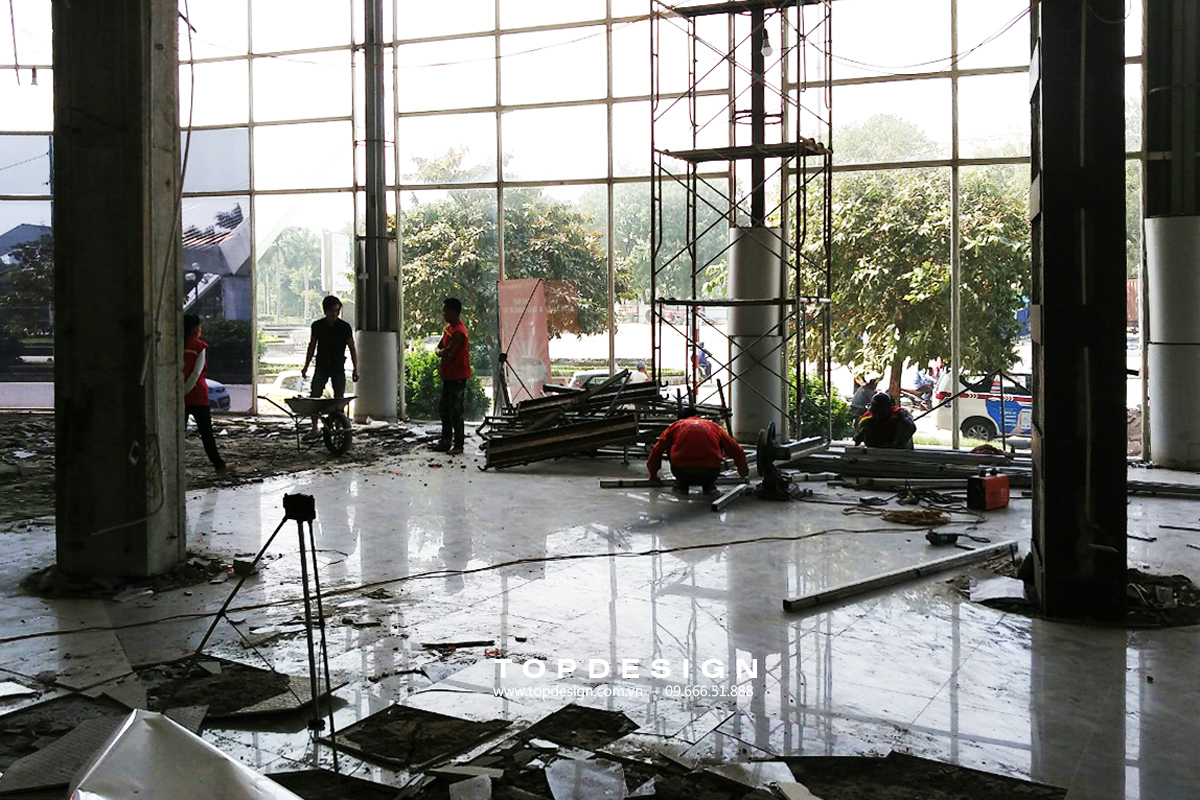 Choosing a professional showroom design and construction unit now becomes a decisive factor for realizing the ideas of business owners. An experienced construction design company will help business owners solve problems of scientific functions, eye-catching layouts, moreover, investment budget problems for their showrooms and stores.

1. Why should you showroom interior fit-out?
Businesses, especially manufacturing enterprises, need to visit showrooms. It is not only a place of sales but also an important marketing strategy to promote the company's image closer to consumers. Let's take a look at a few reasons why you should design your showroom space and invest it properly:
– Being the face of the product, creating an image and brand for the unit. A growing, highly regarded company will surely have a modern and luxurious showroom, which will help increase its prestige and help customers feel more secure when cooperating.
– Create a premise to compete with competitors, attract customers to see and experience the company's products. When deciding between names, customers will definitely choose a place that leaves them with an impression and trust because the company has a connection with customers.
– Help customers better understand the company's products, and at the same time show the value of each product through the display. Seeing with their own eyes and touching them in a modern and luxurious space, with shimmering electric lights and elegant colors will make it easy for customers to fully appreciate the product.
In addition, the showroom is also a very effective sales channel with reasonable prices. Not only does this help increase sales efficiency, but it also creates behavior for users. They will use and feel the quality of the goods, thereby becoming regular customers. Showroom combined with sales promotion program will definitely help attract customers.
Maybe you are interested:

2. Quotation for showroom interior fit-out
What most investors are interested in is how much a well-designed showroom will cost. Having a complete and professional design together with a seasoned construction team will not only help them plan the investment budget from the beginning, specify the right materials and above all help Business owners save time.
With business premises & with business owners, time is the most valuable asset. Therefore, showroom owners should choose a reputable construction design company to request a showroom design quote.

3. Beautiful showroom interior fit-out in Hanoi
A showroom not only needs to be beautiful, but also must show professionalism and scale because it is the face that shows the brand and strength of that business and business item. Therefore, in order to have a unique showroom, homeowners need to learn carefully about product characteristics and customers' shopping behavior to have an eye-catching and appropriate showroom design idea.
TOPDESIGN is one of the prestigious addresses for interior design in general and showroom design in particular with a team of architects and skilled workers. TOPDESIGN's team of architects and employees with many years of experience in the field of interior design and construction in many different styles will surely satisfy all customers with different design requirements.
Based on business items, customers and design ideas of the shop owner, TOPDESIGN will draft survey data to form the most complete 3D showroom drawing. This drawing will be transferred to the customer for detail and will be edited, requested to change if not satisfied anywhere. On that basis, the design unit will complete the drawing and hand it over to the customer.
To contact showroom design, you can call us at 0966651888